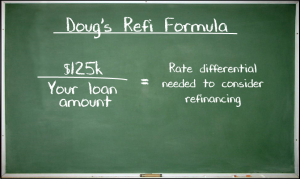 Do you feel like it may be time to refinance but you just aren't sure if it's worth it? Use Doug's refinance formula to figure out if it's the right time for you.
For example, if you have a $250,000 loan divide $125,000 by $250,000 which equals .5% therefore you need a .5% drop in rates to consider refinancing.
What other considerations are there?
-How much time have you been in your home?
-How much are closing costs?
-Can you still get cash out?
What are some purposes of refinancing?
-Lower interest rate
-Home improvement
-Debt consolidation
If you are interested in refinancing or need advice on whether or not it's the right time for you reach out to Doug @ (314) 472-DOUG (3684).
Podcast: Play in new window | Download