6 Reasons to Refinance
 
You may find that refinancing could save tens of thousands of dollars in interest and years of mortgage debt repayment. I

t does take some effort to get the process started. H

owever, the time and effort spent could easily be worth it depending on your situation. 
Here are 6 reasons to refinance, and take advantage of home appreciation, and low rates.
1.Refinance to change the term of your loan.
If you have a 30-year mortgage, now may be a great time to consider refinancing. With record low interest rates, you may find that a 15-year mortgage is not much more expensive than the 30-year loan payment you have been paying.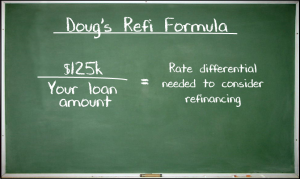 2.Refinance to lower your interest rate.
As I mentioned before, interest rates are near a record low. 30-year mortgage rates are hovering around 4 percent and 15-year loans can be secured for an even lower rate. If your home is now financed at a higher interest rate, it may be a great time for you to consider refinancing.  Check out the Refi Formula to the left to see what rate you would need to refinance. You could literally save tens of thousands of dollars just by taking the time to fill out the necessary paperwork and gather the needed documents.
3. Get Rid of Mortgage Insurance
Many people purchase their home with less than a 20% down payment, meaning they must pay mortgage insurance. These mortgage insurance charges can be between .2-1.3% of the balance of the loan, potentially costing hundreds of dollars a month. With home appreciation up year over year you may have gained enough equity in your home to get your mortgage insurance removed. This is a very easy way to save thousands of dollars in just a few years, while still taking advantage of low rates.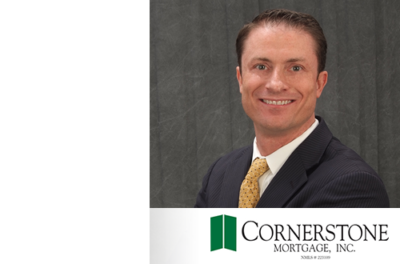 4. Refinance to lower your payment.
Refinancing your mortgage at a lower interest rate could mean drastically reducing your payment and saving tens of thousands of dollars in interest. Lowering your mortgage payment could also free up hundreds of dollars per month that could be saved or invested. Although refinancing to lower your payment could increase the term of your loan, it could make sense in your particular situation.
5. Refinance from an adjustable-rate mortgage to a fixed-rate loan.
If you currently have an adjustable-rate mortgage, now may be the perfect time to refinance into a fixed-rate loan. Interest rates are low now, but they may not stay this low forever. Locking into a low, fixed rate can protect you from rising interest rates in coming years. Additionally, a fixed payment is easier to plan for and budget.
6. Refinance to cash out home equity.
It's a tempting proposition to cash out your home equity by refinancing your home. It could even be a great financial move in some circumstances. For instance, it may make sense to cash out some of your home equity in order to buy an investment property or start a business. It mostly depends on what you are trying to achieve and if you are someone who can manage your debts responsibly.
Listen to the Podcast Below!
Podcast: Play in new window | Download