In today's market not everyone can be a real Rock Star but Brad Booker really is one! Brad joins the Real Estate Market with his wife Emily Booker by bringing their experience of how to market your self and your home!
With Brad's experience of being in bands like The Choice, Stir, Gravity Kills and playing the drums and opening for bands like Evanesence just to name drop, he understands how important marketing really is and what things you can do to make your home the 'opening act' in today's market.
Emily who speaks English and Chinese assists those national &  international clients that may be finding themselves lost in translation!  Emily has grown up in the Real Estate Industry her entire life and has a ton of wisdom to offer their clients.
This duo real estate team hits the charts at number one!  Listen in today to hear more about their life transition of being Rock Stars in the Music industry to Rock Stars in the Real Estate Industry!
Contact Information: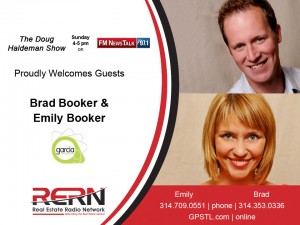 Brad & Emily Booker
Garcia Properties
3721 S Kingshighway
St Louis, MO 63109
Brad Phone: 314.422.4555
Emily Phone: 314.709.0551
Fax: 314.353.0336
www.gpstl.com
Brad & Emily Booker Audio 1
Brad & Emily Booker Audio 2