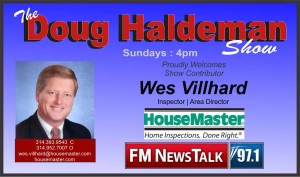 Wes Villhard with Housemaster takes us through the top 10 tips to winterize your home.  He goes from chimneys to your furnace and how some of these steps not only make your home safer but will save you money in the end!
Contact Information:
Wes Villhard
HouseMaster Home Inspections
4101 W. Argonne #140
Kirkwood, MO 63122
314-952-7007
housemaster.com
Click here to get the Top 10 Tips to Winterize Your Home 11.3.13 list.
Audio of Wes Villhard
Podcast: Play in new window | Download