7 Tips on How To Use Your Tax Refund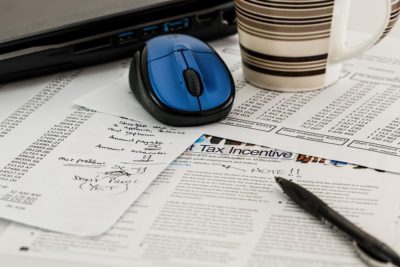 While I completely disagree with giving the government an interest free loan, many Americans receive a big tax refund check each year. In fact, the average refund check in 2016 was about $3000. Now, this check isn't a bonus from the taxman, rather it was your money all along.
Having said that, if you are receiving a big refund this year be sure and treat it just like you would any other money coming in. Make sure you have a purpose for it! We've outlined 7 ways you can use your tax refund for your financial benefit.
Now, these are not in a particular order, because everyone's financial situation is different. But, some of these should take priority over others.
1) Pay off Debt
Paying off any high-interest debt you have should be a top priority. By carrying debt with high interest payments, you are throwing money away. Start by figuring out which debt repayment strategy is right for you and go from there! Use this spreadsheet to calculate what method works best for you.
This should be a top priority as well. If you haven't started an emergency fund, I would recommend doing it right away.  This is extremely important because one costly expense like a major car repair or hospital bill can send you way off track from your financial goals. If you have one started think about bolstering it with a chunk of your tax refund.
3) Create a Goal-Oriented Savings Account
This should be reserved for your short to mid-term goals. Whether that is saving for a down payment on a house or planning for a family vacation a few years down the line. Find your budget and get a head start with your tax refund.
4) Need-Based Spending
You can take care of essential items that you've been putting off. This could be fixing a car problem, taking care of some needed dental work, or some other needs-based expense. Remember, you don't need a new TV.
5) Invest it
If you aren't maxing out your 401k or IRA contributions consider boosting it with your refund. If your tax-sheltered accounts are maxed you may want to look into investing in a diversified account. Look into mutual or index funds to minimize your risk.
6) Make Home Improvements
Making home improvements can significantly increase the value of your property. A decent refund can make a good dent in a kitchen or bath remodel. Maybe you have a landscaping project you want to start or need new appliances. Whatever the project, a tax refund could help you get started.
7) Keep it Liquid for Business Opportunities
When an opportunity arises, it's nice to have liquid funds to invest immediately. Maybe you've always thought about purchasing an investment property or perhaps you want to own your own business. Before you dive head first into an investment opportunity do your research, and be sure to really think it over.
Last and Certainly Least..
Spend it on Something You Want
I didn't number this one because unless you've done all or most of the above I wouldn't recommend this. Now, I'm not saying you don't deserve a little RnR on a vacation or some other thing you've been desiring. However, think about where you want to be financially and see if that big ticket item is really in the cards.
If you are receiving a big refund this year be sure and use it wisely. If you consistently get big refunds you may need to take a look at your withholdings and consider lowering them.
Let us know how your using your tax refund this year in the comments below!