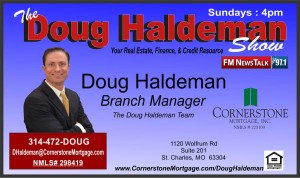 Cornerstone Mortgage, Inc offers an amazing product that blows away other lenders.  Doug Haldeman, Branch Manager at the St. Charles office location, discusses a new fast and safe way to pay off your home.  Be sure to listen in to find out if this would be an option for you.
If after hearing the show and you want more information reach out to Doug today at 314-472-3684.
Below is a link to Doug's mortgage coach presentation and the audio to the show.
Doug's Mortgage Coach Presentation
Podcast: Play in new window | Download