Why Did My Credit Score Drop?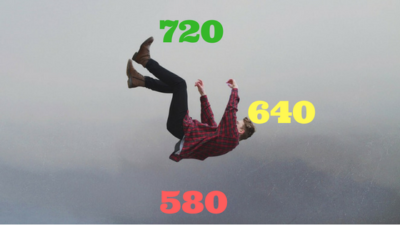 As a mortgage professional I'm looking at credit scores everyday. When I speak to people they will often tell me what they think their score is, and it is always interesting to see how close they are.  When we actually pull up the credit report it can appear that the credit score dropped, and this can be a shocking discovery. Also, that score is tied to how much interest you will pay on debt. Not only is it frustrating, but it can also be very costly. Let's explore some of the reasons you may see a credit score drop.
Credit Utilization
This is one of the biggest factors in determining your score. If you carry a high balance compared to your total credit limit this will affect you negatively. If you recently racked up a bunch of expenses on your credit card and didn't pay the balance down you could see your credit score drop. Ideally the balance is kept at 10% of the limit. So, for example, if you have a credit limit of $1000 the balance should be at $100 when it reports.
If you currently have high balances on credit cards, you have a few options. One would be using the debt snowball method. You could also apply for a credit limit increase with your card issuer, although the increase is at their discretion.
Payment History
It's important for creditors to see that you're reliable with your payments. Even one late payment and you could see a significant drop. I recommend setting up automatic payments so it's not something you forget about. This is the biggest factor in determining your score!
Derogatory Marks
Tax liens, collection accounts, and bankruptcies can do some of the biggest damage to your score. Monitor your credit score to watch for any major changes. If you do receive a derogatory mark be sure to check into it; if it doesn't belong you have to right to dispute it.
Average Age of Open Lines
The longer a line of credit has been open, the better it looks for your credit. However, the credit reporting agencies take the average age of your open credit lines. Therefore, if you recently opened or closed an account it could cause a credit score drop. Opening a new account will sometimes help your score, but never open several right in a row. Also, I almost never recommend closing an account, unless it has high annual fees.
Total Accounts
Having a good mix of the different types of credit and a good amount of open accounts shows you can responsibly handle credit. If you recently paid off the only installment loan you have, like a car loan, then it could affect your score. While this is one of  the lowest factors in determining your credit, it could explain why you saw it drop.
Hard Inquiries
When you apply for a new form of credit, like a credit card or car loan, it registers a "hard" inquiry on your report. Now, one hard inquiry wont typically affect your score much, if at all. But, if your applying for several new accounts in a short period of time you could get hit.
Do your best to stay aware of your credit health, and it will save you tons of money. I recommend monitoring it regularly and while, not all of these situations can be avoided, understanding how they affect your score will help you make better decisions.
Podcast: Play in new window | Download