Financial Forecast for 2017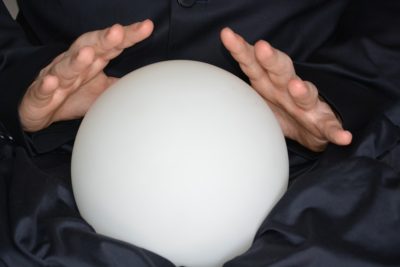 2017 is shaping up to be an interesting year in many ways. The new administration has shaken up the market and left many wondering what will happen economically in the US. Here we're going to take a look at our forecast of the financial future for the next year.
What We Predicted in 2016
Forecasted the 10-year Treasury Note Yield would drop below 2% – The 10-year began the year at 2.245%, and then dropped to 1.325% on July 6th.
Forecasted home price appreciation would be 5% – 6% – Actual was up 6.2%.
Forecasted Stocks, as measured by the S&P 500, would decline by 300 points – Stocks did decline by 200 points in February from the start of the year, but then did rally into the end of the year due to optimism from the Trump Election.
Predicted that the Fed would hike only once, while everyone else was forecasting 4 rate hikes. Our forecast of just 1 hike was right on target.
2017 Dynamics
Trump Administration
Inflation pressures remain very tame, but may start to heat up
Home inventory levels remain very low
Modestly higher Rates – Refinances starting to slow
US Manufacturing sector is still lackluster
The Fed is indicating three rate hikes
Stock Predictions

Stocks appear toppy and a bit vulnerable. We are entering the new year with extremely high investor optimism. This is often a dangerous sign.
Prediction: We feel there could be a potential for a Stock market correction. While 20,000 on the Dow seems inevitable, there could be a pullback after breaking through it.
When the Dow broke above 1,000, Stocks pulled back shortly thereafter and it took 10 years to break above it again
When the Dow broke above 10,000, Stocks pulled back shortly thereafter and it took 9 years to break above it again.
We are not saying this will happen again, but often times these milestone levels are tough ceilings.
Changing of the Guard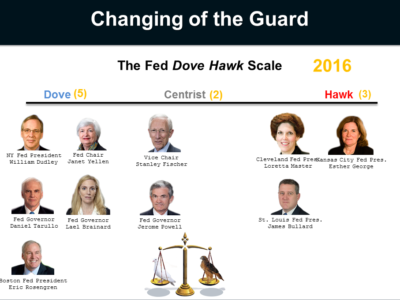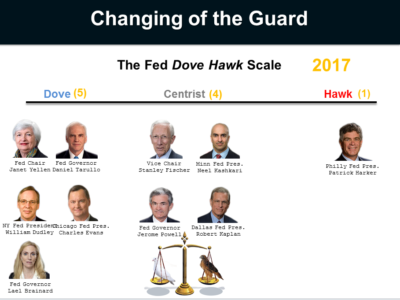 The Fed
Fed Members forecasting three rate hikes
Many economists are predicting four rate hikes
Our Prediction: With the new 2017 composition of the Fed, it will be difficult for them to hike 3 or 4 times.  And we know how much the Fed likes to drag their feet in hiking.  We predict 1-2 Fed Rate hikes.
Housing
Low inventory
Rents rising at 4% per year
Modestly Higher Rates – Won't derail the housing market
Incomes rising at a pace to easily support appreciation
Demand remains strong
Prediction:5% – 5.5% Appreciation
Rates
Inflation is main driver of rates – Rates will move higher, but not astronomically
Global yields will rise and pressure US yields a bit higher
Infrastructure projects under Trump will be financed by selling additional Bonds. This excess supply is a negative for rates.
Prediction: The 10-year Treasury Note Yield will gradually rise towards 3%
Download the PowerPoint Below
Be sure to Listen to the Audio!
Podcast: Play in new window | Download