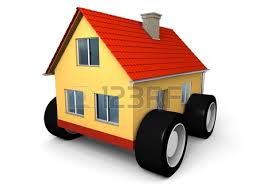 We get called on a weekly basis from people that want to move.  We help by providing mortgages, and we help match you with the best Realtor. My contact info is listed below, reach out if you need help or advice.
There are many reasons why someone wants to move.  Some are for positive life changes and others are for negative reasons.  We've narrowed it down to the Top 10 Reasons it may be time for YOU to move.
1.  Commute isn't practical
Frequently people underestimate how long the commute will take when they pick a house.  Over time they realize that the cost of their time sitting in the car every day, plus the gas and maintenance expense, is just too much.  It becomes a clear sign that it is time to move.  In other cases, your job changes and you are forced into a longer commute.  In this situation, if you think you are going to stay on your job for a long time, you might consider moving.
2.  Physical Condition
As we age, our needs change.  We may get to a point where we can't handle the maintenance of a home.  Or, we can't walk up and down stairs.  These are just a few of the physical signs that it may be time to move.
3.  Income Change
If your income has increased, and you think it will stay that way, it may be time to move.  The mistake in many situations is the expectation that your income will always go up.  The crash of 2008 proved this point to many.  Some are in situations where their income has decreased.  Whether from a job loss, or retirement, it may be time to consider a move.
4.  Market Factors
This covers market changes for the better or worse.  Maybe you predict that home prices will decrease in the future, which makes this a good time to sell.  Or, it's time to cash-in on your equity because prices have increased.  You may be able to make money selling your home, or make money by getting a steal on your next home.
5. Family Size
Young families often need to buy bigger homes to house their extra kids.  My large family has experienced this multiple times.  Then there is a point where the kids are grown and gone.  The empty nesters feel the need to downsize.  If either of these scenarios are true for you then it may be time to move.
6.  Relationship Change
Marriage and divorce are the primary drivers in this category.  Marriages create a demographic demand for homes.  Couples love to buy a home to make their own.  Unfortunately, since the majority of marriages end in divorce, this creates more demand for homes.  I've bought and sold homes for both of these reasons!
7.  Neighborhood is going downhill
You've tried to hold out, thinking the neighborhood would come back.  It may be time to move if your neighborhood is no longer the place you want to live.  It may be a safety concern, or it may strictly be about the money.  The neighborhood we choose helps influence the culture in which we belong.  You will tend to eat at restaurants and shop close to home.  If the culture of your area doesn't fit your life plan, it may be time to consider a move.
8.  Ready for a different city
Many have always dreamed of living in a certain area of the country.  For some it is climate driven, as they really want to avoid the cold winters.  Others want to be close to family.  Many relocation's happen for these reasons, as well as job changes.  Are you ready to live in a different city?
9.  Sick of making your landlord money!
This only applies to renters, but effects millions.  Rent will continue to go up over time, typically faster than inflation.  If you do the math to see where your rent will be in 15 or 20 years, then you see that owning a home is a better solution.  When you own a home, you can lock in your principle and interest over 30 years.   The only increase in payment will come from changes in taxes and insurance.  If you are tired of giving your landlord all of your money…it may be time to move!
10. Ready for a change
Some hate to move while others just start to feel the itch to move every few years.  There is no way to predict this, it's just a feeling that you have.  If you can tell that you are ready for a change, it may be time to consider a move.
Better call Doug…
If any of these reasons are true for you, it may be time to give me a call.  I can make sure that you have the proper debt strategy in place for the next house.  Also, we have screened through the Realtors in the area to find the best.  We help hundreds of homeowners get matched with the right Realtor.
Doug Haldeman (NMLS 298419)
(314)472-DOUG (3684)  or doughaldeman@gmail.com
Listen to Audio:
Podcast: Play in new window | Download