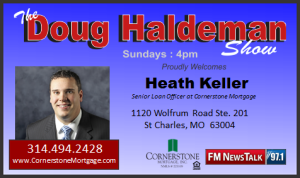 Heath Keller, a Senior Loan Officer at Cornerstone Mortgage joins Doug on todays show to shed light on what the differences are between a Mortgage Broker, Mortgage Banker, and Banks. Heath also gives insight on why he chose to work for Cornerstone.
Mortgage Broker
No control over underwriting, closing, other important facets of the mortgage process
Doesn't fund loans in their own name
Mortgage Banker
Correspondent lending vs Agency Direct
Banks
Banks don't know what loan commitment dates mean
Centralized processing
Long wait times
Bureaucracy

Slow
Too many layers of management

Higher fees and higher rates
No licensing for loan originators – This is where all Originators go if they have bad credit
Why Cornerstone Mortgage?
Goldilocks of lenders
Not too big to implement changes
Big enough to create leverage
Top 3 lender in Missouri
#1 in most volume per loan originator in Missouri
Top 100 Mortgage Companies in the U.S.
Direct seller to Fannie/Freddie/Ginnie
High standards for operations
If you are looking for a mortgage reach out to Heath Keller or Doug Haldeman. You can reach Heath at (314) 494-2428 or Doug at (314) 472-DOUG.
Podcast: Play in new window | Download