Marc Breckenridge with MGIC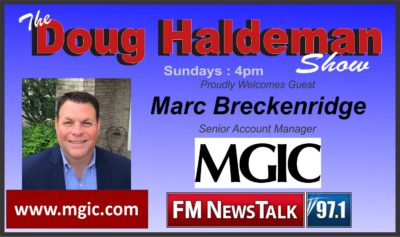 Marc Breckenridge with MGIC is here to discuss the ins and outs of Private Mortgage Insurance (PMI). What exactly is PMI and why may you have to pay it? For people with less than a 20% down payment, PMI is a tool allowing them to buy a home sooner. We wanted Marc to come on to explain mortgage insurance and how it affects you as a homebuyer.
The Mortgage Guaranty Insurance Company (MGIC) was founded by Max Karl, the creator of modern mortgage insurance, in 1957. The creation of mortgage insurance has allowed millions of families the ability to realize the dream of home-ownership, many of them may never have had the opportunity without it.
What is PMI?
PMI or Private Mortgage Insurance protects the lender from losses due to foreclosure. Having a PMI policy allows a homebuyer to put less than 20% down on a home and it can also increase their buying power.
Why 20%?
Through extensive study it has been shown that default rates, i.e. foreclosure, increase when someone puts less than 20% down on a home. However, for most people saving up that 20% can take a very long time.
ex. If you are looking to purchase a $200,000 home, 20% down is $40,000!
With PMI a homebuyer can put as little as 3% down because the lender is protected by the insurance policy.
In contrast, 3% of $200,000 is $6000, which is obviously much easier to save.
The ability to put less down on a home has opened up the dream of home-ownership to a much wider group of Americans.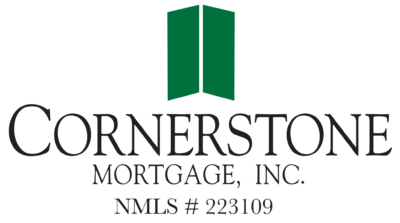 How Much Does It Cost?
PMI rates vary based on the homebuyer's credit score and the amount of down payment on the house. Typically rates are between .3 – 1.5% of the original loan amount per year. Most policies are paid by the borrower monthly and it is added on with the mortgage payment.
Paying mortgage insurance may seem like a waste of money because it protects the lender not you, the borrower. However, it can pay off to get PMI. There are a few reasons you may consider putting a smaller down payment and paying the PMI:
You Don't Have The 20%:
This is probably the biggest hurdle to home-ownership. Waiting to save the 20% can take a while and can actually cost you more. If interest rates rise and homes appreciate you may end up spending way more than if you had purchased with a smaller down payment
Increasing Your Buying Power
Let's say you have $15,000. If you use that to put 20% down you could purchase a $75,000 home. Now, if you take that same $15,000 and put 5% down you can now purchase a $300,000 home.
Invest Your $
It may make sense to put a smaller down payment, pay the PMI, and invest what is left. Consult your Financial Planner before making a decision like this, but it could really pay off.
Save The Money For Emergencies or Home Improvement
If putting 20% down drains your account, it may not be the wisest decision. Having money for emergencies is extremely important and if you wait to try to tap into your equity after the emergency it could cost you more than if you had kept that money in the first place. As well, if you're buying a new home it may make sense to keep the money for home improvements instead of putting it in for the down payment.
PMI vs. MIP
It's important to remember that PMI is not a life sentence either. By law, lenders are required to cancel PMI once you hit 22% equity or Loan to Value hits 78%. You can also request the removal of PMI at 80% Loan to Value or 20% equity.
MIP or Mortgage Insurance Premium is only on FHA loans and typically does not fall off.
LPMI?
Did you know that you can avoid paying a monthly PMI premium even with less than 20% down? With what's called Lender Paid Mortgage Insurance you can put less than 20% down and still pay no PMI.
This option allows the lender to pay a large upfront premium to insurance company so you can avoid paying it. You will typically take a larger interest rate when doing this, but it could be worth it depending on how long you plan to have the loan.
For more information on PMI, LPMI, or to take a look at buying a home reach out to me at (314) 472-DOUG (3684)
Podcast: Play in new window | Download