Stephen Schultz from Schultz & Meyers Law Firm answers questions about the legality of taking video and pictures of Law Enforcement in public. Below is an excerpt from Stephen's blog post on the topic:
Is it Legal to Film Police Officers?

Police activity has been in the spotlight in St. Louis, and Nationwide since the Ferguson, Missouri riots began this past August. The riots began following the death of Michael Brown, an unarmed black teenager who was fatally shot in Ferguson by police officer Darren Wilson, 28.
As riots escalated, numerous arrests were made because reporters or witnesses took out their phones to capture footage of police officers assigned to the scene. In one such case, Huffington Post Reporter, Ryan J. Reilly, and Washington Post reporter, Wesley Lowrey were detained after attempting to film a group of police officers inside a McDonalds.
Both Reilly and Lowrey were later released due to the fact that they had not broken any laws.
Videotaping Cops is Legal in All 50 States
Listen to the interview:  
Also in the interview:
Is it legal to videotape on private property?
Is it legal to record phone calls or have other hidden recording devices?
How does the Grand Jury work? 
For legal advice, contact Stephen Schultz/Schultz & Myers Law Firm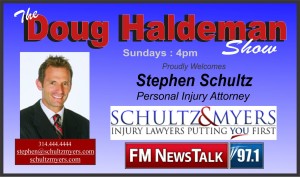 Podcast: Play in new window | Download