Kid Money Wasters-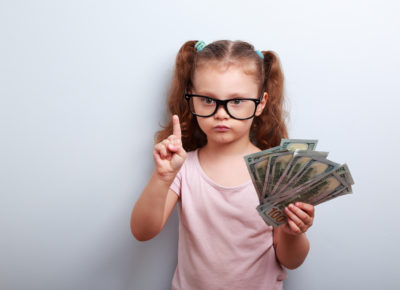 We all know that kids can be very expensive. There are many reasons that we end up spending more on our kids than necessary. Sometimes we're worn down. Sometimes we think that we want them to have more than we did, so we spoil them! As I look at the financial picture for thousands and thousands of people over time, I see recurring areas of over-spending on kids. We narrowed them down to the Top 12 Kid Money Wasters.
Sports
Club Teams, Camps and lessons for things they aren't passionate about. Sports can be great for kids, so our point isn't that kids shouldn't be allowed to participate in activities. However, too often the parent projects what they think they missed onto their kids. The kid gets pushed into activities their enthusiasm is only moderate.       Parents dish out a small fortune for club teams to make sure the kid has the best chance of success. Then the kid suffers from burnout and loses interest.
Extravagant Vacations
Parents that work too much want to make it up to their kids, so they plan an over-the-top trip. Parents have to work so hard so they can pay for the trips. Frequently they could work less, and live on less. Taking a three year old to Disney isn't really for the kid, because they certainly won't remember it! There are many affordable options to vacation with your family on a budget.
Entertainment/Movies/Memberships
Let's first talk about movies. Taking two adults and three kids to a regular movie starts out with ticket prices over $40. Then your concession bill will be another $30 (or more), and this doesn't even include dinner. The strategy here really becomes about delayed gratification. At some point the movie will go to the dollar theater. Shortly after you can get it on DVD or Netflix. If you can wait, you will save an immense amount of money. As an example, we take our youngest five kids to the dollar theater regularly. For two adults and three kids we spend $7. They have bottomless popcorn and soda for another $13. This means for $20 we were able to take the entire family out for a fun night. This would cost over $100 at a normal theater. A typical movie isn't worth five times the price. Not to mention that taking young kids to a movie can be a nightmare for others.
Next let's talk about memberships. This can mean season passes to Six Flags, membership at the Zoo or Science Center. I'm going to make this one simple. If the membership doesn't pay for itself in the first visit…don't buy it! At the time you are sure that you'll be back there very soon. Then life takes over and the year membership is up without returning. Those that get the true value from it are a small minority.
Birthday Parties and Holidays
My kids get invited to parties all the time where parents spend $300+ to host the event. Speaking from experience, my advice is to set the bar LOW. It is okay to just have a family event where you get a cake and sing happy birthday. Have a party on the major milestones, and find ways to do it on a budget. You are training them what to expect.
Overspending on gifts fits into the same category. Kids don't need us to give them everything they want. We'll talk more about this when we get to #6 on our list.
New Items for Newborns and Toddlers
This is the most common with the first born in families. Buying all new items for newborns is a waste of money. Kids will grow out of them very quickly, and I can promise that they don't know the difference. Those items really aren't for the kids…they are for the parents. Someone that wants to save money can get most of the items free and many used for a low price. When pregnant, post on Facebook, broadcast email to friends, ask around for friends getting rid of items. Go to second hand stores to get cribs and other items for a fraction of the price.
Monthly Fees
This refers to any expenses for our kids that are recurring. It includes cell phones, Xbox Live, sports, and many other regular charges. You must guard your budget to minimize these charges. Make the kid do something to earn the money. At least make them pay a portion. There are many cost cutting measures that can prevent the buildup of monthly fees. For instance, my phones have hand-me-down I-phone's, but they don't have cell coverage. I'll pay for minutes in Text-Free so they can call when they have wi-fi. This is a fraction of paying regular charges for a phone.
Toys
I'm going to make a confession here. My house is full of toys that don't get played with very often.   Between all the kids mountains of stuffed animals, nerf guns, dolls and toy soldiers they just seem the thing to buy every birthday or holiday . While they do appreciate every toy when they open it, only a few are actually played with more than once or twice. Over the years, I learned to be more savvy with my choices through experiences with toys that prove to be a good value for the money. Here are a few suggestions to help you spend your toy dollars wisely.   Look for versatility, toys that can be bought at second hand stores, garage sales, trade with friends. One child's trash is another child's treasure.
Electronics
How often do you buy a new cell phone, laptop, or TV? In these gadget-driven days, you probably upgrade your electronics fairly often. Most people don't think twice about buying the "latest and greatest" technology. After all, companies and their marketing teams spend a great deal of money to make sure that we're hungry for the next iPad, Xbox 360 Kinect, or LED TV. Instead of always having to have the latest and greatest, go secondhand shopping for electronics.
Name Brand Clothing
A well-made piece of clothing is worth the money, but when there are so many consignment shops out there with tons of well-made used clothing, why would you head to the new clothes store first?
Lifestyle
I'm all about increasing income, but you don't always have to take on a second job, side hustle, or get promoted to increase your income. Saving money through cutting expenses can help increase your cash flow much in the same way that increasing income will. Take a look at all your habits.
Food
Have the kids make their lunches, figure out the school lunch program to figure out their daily budget.
That's not to say that you shouldn't eat out, but try to mix things up by making food at home occasionally and eating out when you can afford it. "Making your own food is much cheaper and, often, much healthier
 Name brand food at home, soda, snacks
Next time you go shopping, instead of buying your favorite brand of something, switch it up and buy the store brand. If you find it's just as good, you'll naturally go for that choice every time from then on because we naturally want quality for less.
Education
College costs have exploded in recent years. Tuition, room and board at a four-year institution averaged $37,990 per year for the 2014-2015  school year, according to the National Center for Educational Statistics.
In addition, only about 36% percent of students graduated within four years of starting college in 2011, according to U.S. News & World Report. So college costs may grow from what parents expect to pay at the start of college.
Kids often pick out high-end colleges as their "dream schools" with little regard for cost, expecting parents to pay. How to say 'no': Look at what you can do financially and communicate that number in clear terms from the get-go.
For example, you could offer to pay tuition for any in-state public university. If the child wants to go to a pricier school, make it clear he or she will have to come up with the difference by applying for scholarships or taking out student loans.
For the follow up to this, read 7 Ways Parents Can Be Good Money Role Models.
Podcast: Play in new window | Download