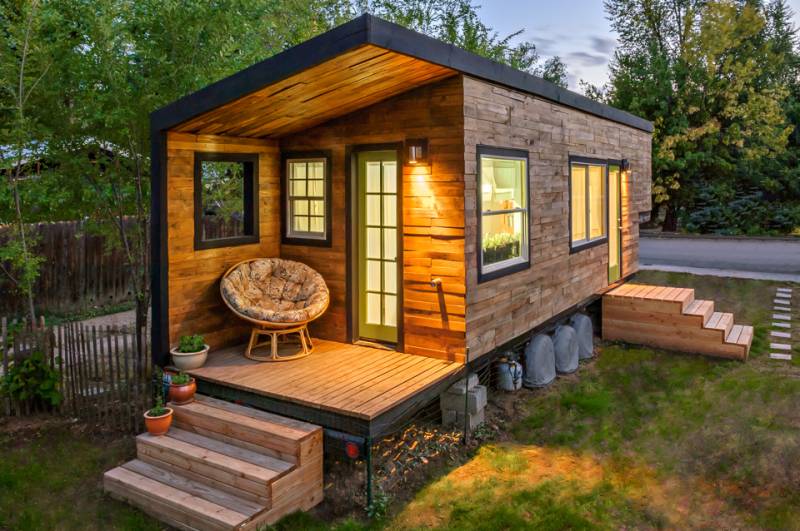 Buying a tiny home could be a mistake
When it comes to a tiny home, less may not always be more. It's a trend that's sweeping home improvement channels. Like, really tiny homes. And while they can be cute the price per square foot isn't.
They are considered a mobile home with running water and plumbing, appliances, and everything you'd need in a place to live. The truth is, for investment purposes, it's wildly impractical.
Translation? The trend probably won't last long. It also means your return on investment is next to none. Here are five reasons why buying a tiny home may not be in your best interest.
1. It's a fad
Just like platform sneakers and leisure suits were once popular but are now widely ridiculed, the tiny home trend is one that may be hot now but is likely to cool off before long. The key word is fad.  This is a totally unproven market, buoyed by the intense interest in reality TV.
Although there can be compelling reasons to want to simplify your life by reducing your financial obligations via less expensive housing options it is just hard to say how this trend will pay off in the long run.  The artificial interest caused by the TV trend and the uncertainty in a newer, unproven market make tiny homes a risky investment.  You can find a small home that falls into "Real Estate" investment that meets your communities standards to what constitutes as a home.  Even if you do not live in a "tiny home" you can draw inspiration from that minimal lifestyle and apply it to a home of any size.
2. Buyers are few
If you think the demand for a home that backs up to a major highway is slim, then you'll be amazed at how few people are actually willing to pull the trigger on a tiny home.  Real estate sales are dependent on supply and demand.  A tiny home is not recommended because it only fits a small demographic of buyers in the market. The more restraints the property offers the market, the more niche it becomes. The more niche the home, the less buyers available for the home.  In other words: The supply may be great, but the demand is really, really small. (Pun Intended).   That's not to say if you love it and plan to stay put for the long haul, you shouldn't go for it. Just be prepared, because you might end up facing a really long on-the-market period when it's time to sell.
3. It's less marketable
The vast majority of tiny homes can accommodate one to two residents tops.  Basically this means many buyers who entertain or host overnight guests are simply uninterested in even considering a tiny home for their primary home or even vacation property.  Tiny homes are simply less marketable.  The average consumer needs more space, bedrooms, and bathrooms than a tiny home can offer. An average home allows buyers to grow into it and keep it long term. A tiny home offers restraints to changes in the lifestyle of the buyer.  A tiny home on a piece of property that offers space for an additional, larger home to be built later could be the exception here, giving the new owner a place to reside while a dream home is under construction (and a cozy place to host guests in the future!).
4. It's too darn small
Sure, the concept of downsizing sounds nice, but let's be honest: Most people have too many personal belongings to squeeze into a tiny home. You may have just graduated college or moved out of your parents basement but think of your future space you will need.  Most Americans like collecting a lot of 'stuff' and have a tough time finding storage space for all of it in a small, regular house that has a garage and basement.
In a tiny house you have just enough room for yourself but no options for expansion, storage, hobbies, nothing. Need to fix your car? You're doing it in the snow or pay retail for someone else to do it. Have a cat or a dog? Where does the cat box go? Dogs don't like being confined. Where do you put your lawn mower? Your rake and shovel? Going to have a baby? Your small house is now too small.
5. It's not less expensive
Downsizing is supposed to help you and be less expensive. But that's not necessarily the case with a tiny home.  There is no storage space, so you'll need to rent a storage unit, which means paying for it, and then you have to go back and forth to it every time you need anything larger than a toothpick.  Want to have a party? Rent a venue. The list goes on. You can buy a plain old 'non-tiny' house for the same money and get much more utility from it.
Finally, most lenders have a minimum square footage they will lend on, so you'll pay cash for your tiny home and so will your potential buyer, which eliminates most of the few remaining prospects you'll have.
6. Place to put it
This increase in popularity of tiny houses, and particularly the rapid increase in the number of both amateur and professional builders, has led to concerns regarding safety among tiny house professionals. In 2013, an Alliance of tiny house builders was formed to promote ethical business practices and offer guidelines for construction of tiny houses on wheels.
Planning and Zoning
This effort was carried on in 2015 by the American Tiny House Association. In 2015, the nonprofit American Tiny House Association was formed to promote the tiny house as a viable, formally acceptable dwelling option and to work with local government agencies to discuss zoning and coding regulations that can reduce the obstacles to tiny living.
One of the biggest obstacles to growth of the tiny house movement is the difficulty in finding a place to live in one.  Zoning regulations typically specify minimum square footage for new construction on a foundation, and for tiny houses on wheels, parking on one's own land may be prohibited by local regulations against "camping."  In addition, RV parks do not always welcome tiny houses. DIYers may be turned away, as many RV parks require RVs be manufactured by a member of the Recreational Vehicle Industry Association "(RVIA)".
Is it an RV?
Tiny houses on wheels are considered RVs and not suitable for permanent residence, according to the RVIA. From RVBusiness, "The RVIA will continue to shy away from allowing members who produce products that are referred to as 'tiny houses' or 'tiny homes'. (However, the RVIA does allow "tiny home" builders to join as long as their units are built to park model RV standards.)"
In 2014, the first "tiny house friendly town" was declared in Spur, Texas; however, it was later clarified that a tiny house may not be on wheels but must be secured to a foundation.
In July 2016, Washington County, Utah revised their zoning regulations to accommodate some types of tiny houses.
Podcast: Play in new window | Download