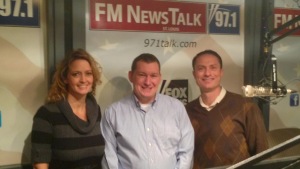 It is a truly humbling and wonderful experience when you are about to change someone's life for the better. I am very fortunate to have an opportunity to change the lives of my listeners every Sunday on my radio show and every day in my office. It is my passion in life to help as many people as I can get out of debt, save money, and own their home.
A few weeks ago we were contacted by a regular listener of the show, Ryan Leach and he wanted to learn more about taking the steps to owning his first home. After meeting with Ryan and his wife I knew that he would be great to have on the show to discuss getting started on their path to home ownership.
In our first segment we sit down with Ryan to talk about getting started with Home Scouting, overcoming debt, and creating a "New Normal."
Interview with our Listener:
In our second & third segments we let Ryan turn the tables on us and ask all of the questions that you want answered.
Ryan Leach interviews Doug and Tammie:
The Start of Something Great by Ryan Leach
Over the last several years my life has taken some pretty dramatic turns that many of you can relate to. I have gotten married, been hired for jobs, fired from a job, amassed a good amount of debt, and turned 30. Over the last year my wife and I started discussing another dramatic turn. The purchase of our first house.
As apartment dwellers we have been very fortunate to have a responsive Property Manager, few rent increases, and quiet neighbors. Do we really want to cast all of that aside for a house? My wife would be the first to say yes. However, I had a couple of concerns. At the moment, if the refrigerator breaks, I get to call the Property Manager and he pays for the repair. When we own a house that repair is on us. With an apartment we are able to leave once the lease expires. If we purchase a house, then that means we are going to stay in that location for a decent amount of time.
It wasn't long before I started receiving advice from our extended family about my home buying concerns. Even with all of well-intentioned advice, I was still feeling uneasy. However, that was all about to change. One Sunday we were driving home from visiting relatives and on the radio was a woman asking her husband similar questions to the ones that I had about mortgages, debt, and buying a first home. The answers that this man was giving made me feel like I was not the only person who had these concerns, and that the home buying process can be the start of something great.
At that point I was absolutely hooked on listening to Doug Haldeman and the knowledge that he shares every Sunday at 4:00pm has started to change my life.
Now that you have listened to our show with Ryan, what was your first home buying experience like? What questions do you have about home buying, debt strategies, or creating a "New Normal" for yourself? We would love to hear from you in the comments section, on Facebook, or by sending an email to Doug@DougHaldeman.com.
Podcast: Play in new window | Download