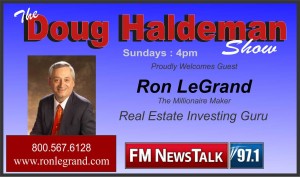 Shaun McCloskey from Lifeonaire REIA StL, Co-Hosts as we interview Ron LeGrand, the Granddaddy of Real Estate Investing.  Ron is coming to St. Louis on August 13th.
To register for the free event, visit www.LifeonaireREIAStL.com
Here is what Shaun McCloskey had to say about Ron LeGrand:
When I first got introduced to real estate investing back in 2003, I was given a very valuable lesson.  A friend of mine said, "If you want to be the best, you've got to learn from the best."  I've since embraced that advice and come to learn that the worst advice you can take is free advice from people with no experience.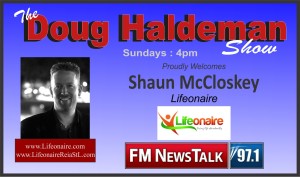 That being said, I remember way back then I started learning from a guy named Ron LeGrand.  They called him "The Grandaddy of Real Estate Investing" because he'd been doing it longer than anyone else out there.  And he was good.  REAL good. 
I've always wanted to meet Ron in person and still to this day haven't.  I feel like I know the guy personally after listening to his tapes and CD's for years and years, and I'm happy to announce that not only am I going to get to meet him face to face, so are YOU!  I don't know how we pulled this off, but we've managed to talk him into coming to speak at our August 13th REIA meeting – right here at Lifeonaire REIA St. Louis!   Ron typically doesn't come and speak at REIAs that do not have a minimum of 300 people so consider this my gift to you… and a little more proof that "you never know unless you ask!"
Over the next few weeks, he's also agreed to share some really good free training videos with each of you in preparation for the meeting.  So right now, mark your calendar that you're going to be there, August 13th, at 7 pm, 6 pm for networking, Spazio's in Wesport, 12031 Lackland Road, St. Louis, MO 63146.  Also there will be an extra bonus of a Saturday workshop on August 16th from 8 to 3, check out the details and get registered HERE.
Make sure to RSVP our our meetup page at www.meetup.com/LifeonaireREIA and like us on Facebook.
Ron Legrand Interview:  Part One
Ron LeGrand Interview:  Part Two
Podcast: Play in new window | Download