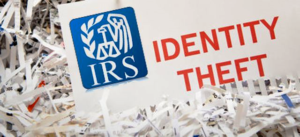 Identity Theft is no fun to have to go through and having your identity stolen is unfortunately becoming common place these days.
In the movies we would watch a person meeting Guido in the back alley or the characters in the movies were placed in the witness protection program with a new identity.  Maybe you were intrigued with Matt Damon aka Jason Bourne, CIA Agent, in the Bourne Film Series who has a ton of identities hidden all over the world.
Now every day people are having their identities stolen by an ever growing world of  identity stealing thieves.  For the victim it is a very pain staking process to clean up your claim of you are who you say you are to the world of creditors.
Doug and Tammie disucss their situation of where someone tried to file their taxes for them which sounds nice BUT it wasn't a CPA!
Below are the IRS links for you to go to to clean things up with the IRS:
Complete IRS

Form 14039

, Identity Theft Affidavit, if your efiled return rejects because of a duplicate filing under your SSN or you are instructed to do so. Use a fillable form at IRS.gov, print, then attach the form to your return and mail according to instructions.