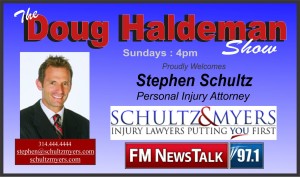 Drunk Driving is one of the most common causes of car accidents on our nation's roads.  Sadly, these accidents could usually be avoided if the driver had acted more responsibly and refrained from driving under the influence of alcohol.
Stephen Schultz offers some great advice for all sides of this situation.  He shares advice on insurance coverage that individuals need to be sure they have before they get behind the wheel, checkpoint status, and what your rights are as a victim of such a crime.
For more information on anything you hear in Stephen's interview be sure to contact him he will be happy to answer any questions you may have regarding this topic.
[divider]
Contact Information:
Stephen Schultz
Schultz & Myers Law Firm
999 Executive Parkway Drive Suite 205
St. Louis, MO 63141
314.444.4444
www.schultzmyers.com
Audio File
Podcast: Play in new window | Download