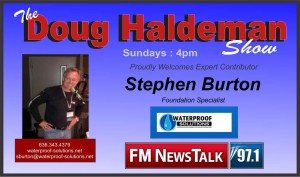 Do you have cracked walls? Doors that won't close? Bulging floors? Any of these can be signs of foundation problems. Foundation settlement can lead to major structural problems within your home.  Stephen Burton with Waterproof Solutions joins the studio and shares with us about  what solutions are available to help correct foundations that are settling.
Foundation settlement and movement requiring foundation repair can be caused by building on expansive clay, compressible or improperly compacted fill soils, or improper maintenance around foundations. Older homes are typically more susceptible to foundation problems.  Whatever the cause, settlement can destroy the value of structures and even render them unsafe. If you see signs of foundation distress, don't delay in getting the problem solved. The longer you wait, the more your foundation will sink and cause further costly damage.
Tune in and find out what exactly is available or if you need to talk directly to Stephen about your foundation give him a call today!
Contaction Information:
Stephen Burton
Waterproof Solutions
636.343.4379
Waterproof-Solutions.net
Podcast: Play in new window | Download