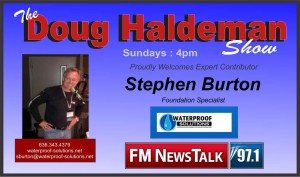 Stephen Burton with Waterproof Solutions shares with listeners today about his experience of finding a home in Ladue that didn't have a foundation and what types of issues it created for the homeowner.
If you have foundation wall cracks, uneven floors, collapsing retaining walls, bowing walls are just some common foundation problems.
Waterproof Solutions has a trained and experienced staff in foundation repair.  If you've noticed wall cracks or slab floor cracks in your foundation don't hesitate to call us. Our staff can schedule you an appointment with one of our foundation experts at your convenience. Waterproof Solutions offers a free inspection, consultation, and written foundation repair quote.
Contaction Information:
Stephen Burton
Waterproof Solutions
636.343.4379
Waterproof-Solutions.net
Podcast: Play in new window | Download