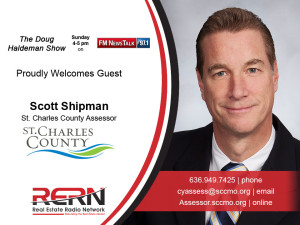 Listen in as Doug and Tammie Haldeman alongside Producer Tom Terbrock and St. Charles County Assessor Scott Shipman discuss everything you need to know about Personal Property Tax and Property Tax:

Personal Property Tax:
What is the personal property tax process?
What is included?
How is the amount calculated?
Property Tax:
How often does the county assess the value?
Can the tax amount change for any reason other than the assessment?
New Construction – how does the county handle the assessment?
What does property tax cover?
What is the range of tax rates that you see in St. Charles County?
How close is the assessed value to the actual value of a home?
Do finished basements effect the assessment?
If you are on a fixed income and need assistance paying your property tax visit: Missouri Property Tax Credit Claim to learn more.
County Assessment Websites:
Franklin County
Jefferson County
Lincoln County
Madison County
Monroe County
St. Charles County
St. Clair County
St. Louis City
St. Louis County
Part one:
Part Two:
Podcast: Play in new window | Download