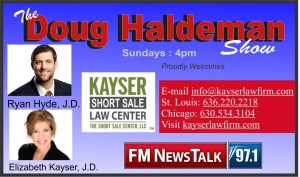 Short Sales are the "New Normal" for homeowners with mortgages.  Without a negotiator you could be losing out on someone in your corner.  Elizabeth Kayser and Ryan Hyde of Kayser Law Firm joins Doug and Tammie in the Cornerstone Studio to explain and dispel any myths of  what a Short Sale is.
Simply put, short sales begin when a homeowner cannot sell their house for enough to cover the mortgage. "Prior to the crash, the banks simply pulled the foreclosure trigger," says Elizabeth Kayser of Kayser Law Firm. Because foreclosures lose the bank money—from the legal expenses to the home maintenance—it wasn't economically sound. "Investors had to figure out, in uncharted waters, how to minimize their losses," Kayser says, adding "shorts sales have been around forever, but nobody knew what a short sale was because they were very infrequent—and banks only would approve a pay-off less than the amount due in a rare situation." She explains that the average lender loss on a foreclosed property is approximately 40 percent of the original mortgage—a figure that is cut in half by selling the home as a short sale.
"A foreclosure is when the bank actually takes title to the home," Kayser explains. "In a short sale, the homeowner gets somebody to buy their home—but that somebody is not willing to pay the amount that is due to the bank." For sellers in a short sale situation, Kayser advises legal representation. "You need an attorney, because there is no short sale transaction out there that doesn't have a legal issue involved."
This process can be intimidating so be sure to have someone in your corner that is looking out for your future!  Be sure to call today for your free consultation!
Elizabeth Kayser, J.D.
Ryan Hyde, J.D.
Kayser Law Firm
636.220.2218
Audio:  Part 1
Audio:  Part 2
Audio:  Part 3
Audio:  Part 4
Podcast: Play in new window | Download