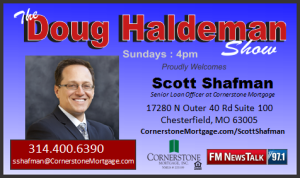 Scott Shafman has been a mortgage professional for 13 years, the last five of those spent at Cornerstone Mortgage as a Senior Loan Officer. Scott joins Doug and Tammie on todays show to discuss why he chose Cornerstone and goes in to detail about the process of determining which loan package is right for you.
Jim Dean, the President of Cornerstone and Angi Stevenson, the Senior Vice President take such a proactive approach with foreseeing the future and staffing appropriately to continue growth that Cornerstone has become the third largest lender in Missouri.
The support you receive as a loan officer from a processing, underwriting, and closing stand point at Cornerstone creates such a smooth and easy loan process it's no wonder why Cornerstone is #3 and working their way up! In fact, Cornerstone produces close to the same volume as the #1 competitor with less than half the amount of loan officers.
The loan officers at Cornerstone are extremely professional and deal with a large quantity of high quality loans which gives them the ability to handle a number of odd scenarios. When looking in to loan packages there are a number of factors in deciding which is best for you. Listen in to todays show to learn more about Cornerstone and what you should consider when deciding on a home loan.
If you are interested in having Scott Shafman or Doug guide you in choosing the loan package that best suits your financial needs, contact Scott directly at (314)400-6390 or Doug at (314)472-DOUG.
Part one:
Part two:
Podcast: Play in new window | Download