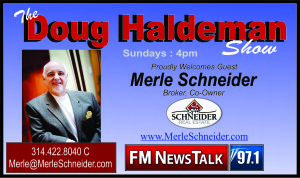 Merle Schneider, Co- Owner Broker with Schneider Real Estate,  joins Doug and Tammie  to talk about the negotiation strategies in work and in personal life.
As we may already know conflict adds to one's tensions and anxiety. It is better to discuss things and reach to an alternative benefitting all. Issues must not be dragged unnecessarily and efforts must be made to come to a conclusion involving the interests of all. No point in being adamant and rigid. One should strive hard to negotiate with each other and consider the needs, interests and expectations of all.
Negotiation is essential everywhere. It is not only the corporates where negotiation is important but also in our daily life. We all must try our level best to adopt negotiation skills to avoid misunderstandings and lead a peaceful and a stress free life.
Merle teaches continuing education classes to Realtors.  Be sure to contact him to find out when his next class is scheduled.
Contact Information:
Merle Schneider
Co Owner Broker/ Vice President of Operations/ New Construction Consultant
Office: (636) 946-5553 ext. 237
Cell: (314) 422-8040
Fax: 1 (866) 730-5961
Email Me
MerleSchneider.com
Podcast: Play in new window | Download