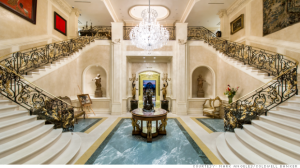 Do you know what neighborhoods in St. Louis are pulling in top dollar?  Huntleigh tops the list with a median list price of 2.35 Million and median sales price of 1.375 Million.  Huntleigh is followed by Ladue, Town & Country, Westwood, Clarkson Valley, St. Albans, Clayton, Frontenac, Des Peres, and Crystal Lake Park.
The chart below shows the median sales price in blue and the median list price in orange.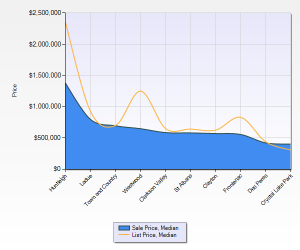 Listen to Segment Audio:
Most Expensive Home in America:
Palazzo di Amore in Beverly Hills was recently listed for $195 Million.  The 53,000 square foot mansion has 12 bedrooms and 23 bathrooms.  The master suite at 5,000 square feet is bigger than most homes!  It sits on 25 acres, has its own vinyard, 50 seat theater, a bowling alley, and a game room.  It can house 1,000 guests, just in case we all get invited to a party!  Jeff Greene, owner, is a real estate mogul who rents the house for $475,000 a month.
Read more about the house on CNN Money.
Podcast: Play in new window | Download