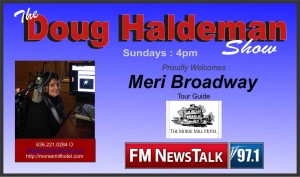 To get in the Halloween mood, we invited Meri Broadway with Morse Mill Hotel to talk about the history of the hotel and it's extra special guests that still reside there.
Originally built as a one-room house in 1816, the Morse Mill Hotel grew to 5,300 square feet under the watchful eye of engineer John Morse, a former Confederate officer and suspected warlock. In its present state, the hotel may house ghostly figures who once took up residence in one of its 33 rooms. Jesse James and company signed their marks in the guest register, and a famous female serial killer, Bertha Gifford, was kept in the hotel's employ; a nearby gravesite marks her resting place. A burial ground for Confederate soldiers, relics of Al Capone's old brothel, and a dungeon also add to the sinister air.
Meri or another expert paranormal guide leads amateur ghost gumshoes through the 33-room, four-story Morse manse, providing advice on where to find the friendliest demons. If they dare, guests are encouraged to snap photos to document their occult encounters with phantoms, specters, or eerily expensive minibars.
Contact Information:
Meri Broadway
Morse Mill Hotel
8850 Morse Mill Spur Rd.
Morse Mill,   Missouri  63050
636-221-0284
info@morsemillhotel.com
http://morsemillhotel.com/
Podcast: Play in new window | Download