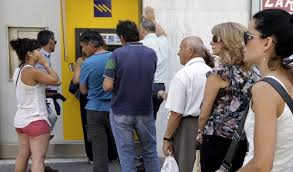 Market Update
This has been a very volatile week in the market.  Here are the major headlines:
The International markets have been riding the rollercoaster in Greece as they vote on a referendum that affects the stability of the Eurozone.
Jobs Report (Non-Farms Payroll) was weaker than expected. There were 223,000 Jobs created in June, below the 233,000 expected.  Additionally, May's blockbuster number of 280,000 was revised lower to 254,000 and April's figure of 221,000 was revised lower to 187,000.  Meaning that there 60,000 in combined revisions lower for the past two months.
Unemployment rate declined from 5.5 to 5.3%, which appears to be strong.  However when we dig deeper, we see the main reason why is because the labor force decreased by 432,000 people.  The Household Survey, where the unemployment rate is derived from, actually showed a loss of 56,000 jobs.  We would have seen an increase in the unemployment rate if such a large number of workers did not leave the labor force.  The labor force participation rate declined 0.3% to 62.9%, which is the lowest level in 38 years.  Unemployment in Missouri was slightly above the national average at 5.7%, while St. Louis was 5.5%.
The unemployment number that is most often used in the media (and by the government) is known as the "U-3". The "U-6" is considered to be a broader measure of the unemployment situation in the United States. The "U-6" includes two groups of people that the "U-3" does not:
"Marginally attached workers" – people who are not actively looking for work, but who have indicated that they want a job and have looked for work (without success) sometime in the past 12 months. This class also includes "discouraged workers" who have completely given up on finding a job because they feel that they just won't find one.
People who are looking for full-time work but have to settle on a part-time job due to economic reasons. This means that they want full-time work, but can't find it.
Two pretty important groups of people, no?  The actual unemployment rate is 10.5% when you look at the U-6 number, compared to the rosy 5.3% that the government likes to advertise.
Supreme Court Approves Fair Housing Lawsuits Even Without Intentional Discrimination
The Supreme Court ruled in favor of civil rights era litigation that previously was not enforced.  The term "disparate impact" describes unintentional discrimination.  Civil rights advocates will consider the ruling a win, while the housing industry considers this a major blow.
Unintentional discrimination can happen when a lender specializes in a certain type of loans that "may" attract borrowers that are perfectly distributed among the protected classes.  For instance, if a lender specializes in Jumbo loans, there may be a higher percentage of non-minority borrowers.  This causes unintentional discrimination and could attract Fair Housing lawsuits.
Any increase in potential lawsuits causes uncertainty and forces lenders to raise prices for everyone.  Disparate Impact is a measure that is vague and a lender only knows they've failed it when they look in the rearview mirror.  The statistics on their loans are the only way to know if the statistics are perfectly distributed, and then it is too late.
http://www.wsj.com/articles/supreme-court-upholds-key-tool-for-fighting-housing-bias-1435242497?mod=djemalertNEWS
Obama Attempts to Diversify Wealthy Neighborhoods
The Obama administration is using the Department of Housing and Urban Development (HUD) to force wealthy areas to build affordable housing in an attempt to diversify neighborhoods.  This unrealistic utopia is drawing criticism from many.
http://rt.com/usa/266650-obama-diversity-us-neighborhoods/
I can appreciate the attempt at helping impoverished people, just not with this method.  There is a natural order in choosing your neighbors.  We all purposely want to be with people that are like ourselves.  We identify with people that think like we do.  In the St. Louis area you can see this first-hand.  A left-wing liberal will probably not feel that comfortable living in St. Charles County.  A right-wing conservative will probably not feel that at-home living in the Central West End.
Wealthy neighborhoods will not like the drop in property values.  It is also another example of failed government intervention.  Anytime the government gets involved, it rarely turns out well.
Listen to audio from the segment:
Podcast: Play in new window | Download