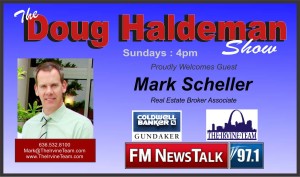 Mark  Scheller, Real Estate Broker Associate with Coldwell Banker Gundaker/ The Irvine Team joins us with his light hearted approach to understanding people.  You will want to joins us at 4pm today to hear Mark's funny stories and how he really cares about serving his customers needs when it comes to buying their next home.
Mark has been in the industry since 1990 and brings with him his real life experience and wisdom to coach clients on the things they need to know to make a smart choice.
Whether you want a Realtor who handles everything for you or one that can teach you everything about the process.  Mark is the agent for you.  He gets a two thumbs up from us!
Contact Information:
Mark Scheller
Real Estate Broker Associate
The Irvine Team
Coldwell Banker
636.532.8100
mark@TheIrvineTeam.com
www.TheIrvineTeam.com
Podcast: Play in new window | Download