Elaine Mahr: Liability Limits and Asset Buckets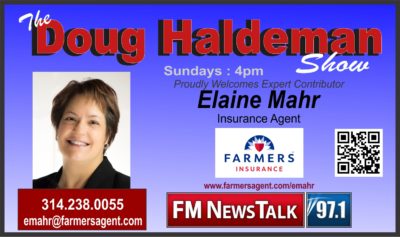 Elaine Mahr from Farmers Insurance is with us to explain how your net worth affects what amount of liability insurance you should have. She also goes into how to determine your net worth and also how to allocate it.
Determining your net worth to be sure you are not under-insured is extremely important. You have worked hard for what you have now let's do our best to make sure you do not lose it. You want to build a wall of liability. Liability is the least expensive coverage but Elaine believes it is the most vital.
Liability Limits
One of the things to watch out for is only maintaining the legal limit of liability insurance. An accident can happen at any time, even if it is out of your control you could still be liable.
Those legal minimums can get exhausted pretty quickly if you were to get in an accident and someone filed a lawsuit against you. If that were to happen you could be paying out of pocket for an attorney to fight for you.
What should your liability limit be? Well, Elaine says the rule of thumb is to match your coverage to your net worth. For example, if you have a net worth of $500,000 then you should have $500,000 of liability coverage.
Determining Net Worth
Now we know how to calculate your liability limit, but to actually determine that number we must figure out your net worth. Elaine has what she calls the 6 magic questions to help you determine your net worth.
Do you have a 401k at work? Approximately what is your account value?
Do you have 401ks at any previous employers? Approximately what is the value?
Approximately how much do you have in liquid savings – CDs, savings accounts, mutual funds, etc.
What is the approximate equity you have in real property – house, cars, personal belongings, land, buildings, toys?
Approximately how much do you have in your Roth IRA?
Do you have a Pension?
Add these up and make sure the first number in your Bodily Injury coverage for auto insurance meets or exceeds this number. If not, bump up the limits and consider a personal umbrella policy. These will cost a lot less than having to hire your own attorney if limits are exhausted.
Asset Buckets
After determining your net worth you'll want to take a look at how it is distributed. It's important to not only focus on accumulation of wealth, but also the preservation and distribution of it. Elaine describes the different buckets that your assets can be held in.
Free Money- Employer matched 401k, gifts, inheritance. Remember that these can be taxed once they are accessed.
Tax-Free Money– Municipal bonds, Roth IRA, Life Insurance
Tax-Deferred Money– 403b, 401k, Simple IRA, SEP IRA
Taxable Money– Capital gains from stocks, Mutual Funds, Real Estate Investments, CDs, Money Markets
It's important to take advantage of these different products. Determining what is right for you requires a conversation with an expert because you'll want to find exactly what is right for you.
To reach Elaine Mahr to have this conversation go to her website or call her office directly at (314) 238-0055.
Be Sure to Listen to the Audio!
Podcast: Play in new window | Download