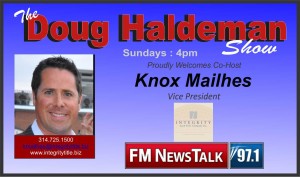 Knox Mailhes with Integrity Land Title joins the studio to Co-Host with Doug this Sunday.  Knox is Vice-President of Integrity Land Title.
Knox answers questions like
Why do I need title insurance?
What is the most common problem when people don't have title insurance?
What is title insurnace?
Integrity Title has learned, by offering more than title insurance and escrow services, their clients can count on them for other important parts of their real estate transactions.
Integrity Land Title was founded in 1999 and has grown from a single location in St. Louis to 15 locations spanning across the Midwest from St. Louis to Lake of the Ozarks all the way to Kansas City.
For more information be sure to contact Knox!
Contact Information:
Knox Mailhes
Vice-President
Integrity Land Title
314.725.1500
kmailhes@integritytitle.biz
https://www.integritytitle.biz/
Knox Audio 1
Podcast: Play in new window | Download