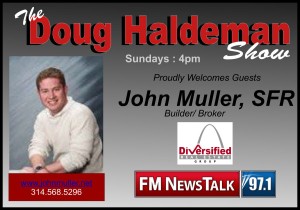 Listen in this Sunday at 4pm!
John Muller, Builder/Broker with Diversified Real Estate Group joins the studio to go through with us the top ten things to consider when buying an investment property.
From knowing the math to creating a major improvement fund listen in as John walks us through the successful steps to investing.
Contact Information:
John Muller, SFR
Builder/Broker
Diversified Real Estate Group
2722 Hampton Ave
Suite S
St. Louis, MO  63139
www.johnmuller.net
www.diversified-building.com
314-568-5296