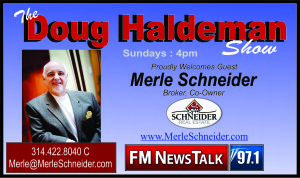 Tips to manage threats to your family business:
Clearly define the goals of the company and make sure everyone is on the same page.
Outline each family employee's role and responsibilities and hold them accountable.
Keep an open line of communication at all times.
Address all concerns quickly and in a non-emotional manner.
Create a fair promotion and salary system that is based on individual merit and ability.
Take a management course to learn how to separate your emotions from the management process.
Provide opportunities for advancement in your business for non-family employees.
Be prepared and create a succession plan to ensure your business lives on after you are gone.
Contact Information:
Merle Schneider
Co Owner Broker/ Vice President of Operations/ New Construction Consultant
Office: (636) 946-5553 ext. 237
Cell: (314) 422-8040
Fax: 1 (866) 730-5961
Email Me
MerleSchneider.com
Audio Segment 2: Merle Schneider
Audio Segment 3: Merle Schneider
Podcast: Play in new window | Download