Home Scouting is the best Real Estate Search engine available, and was rated #1 in the country by its users.  As a listener of the Doug Haldeman Show, we are giving you FREE access to the Home Scouting Report to give you an unfair advantage against other homebuyers!
Listen to the Audio Below!
*You can follow any of the hyperlinks or images to get to the Home Scouting Report website!
Accessing Home Scouting on your computer: 
Look for the Home Search tab listed above and choose the dropdown for  Home Scouting Report.  At the top of that screen there will be a place to register.  Once you register on the site, you'll be able to access all of the features, save properties to your favorites, and keep your searches for each time you enter the site.
Accessing Home Scouting from your Smartphone:
Go to iTunes or Google Play on your phone.  Search the Apps using the phrase "Home Scouting".  Download the Home Scouting App at no cost using the VIP Code "DOUGH" .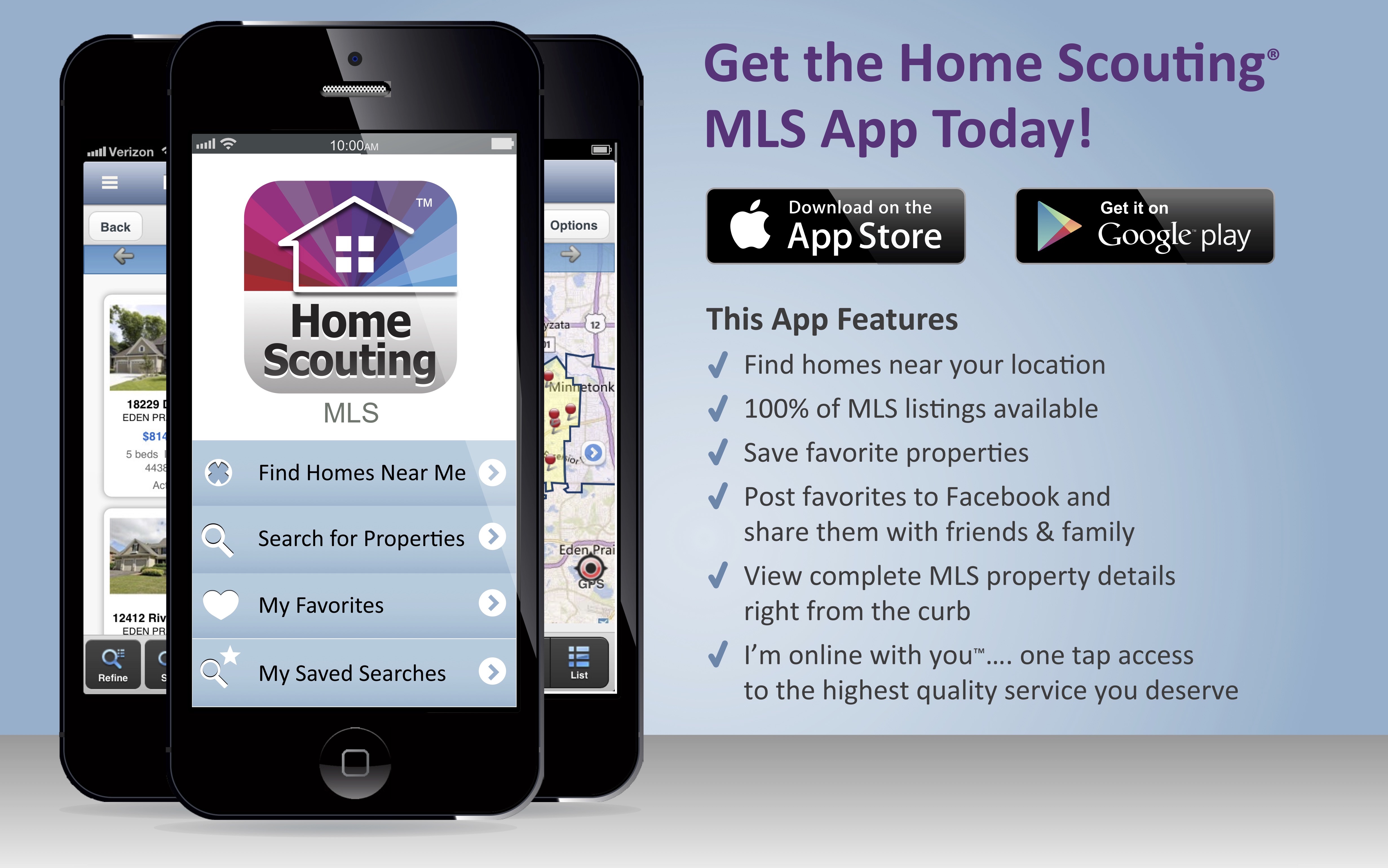 The Changing Landscape for Homebuyers:
94% of all homebuyers start online
33% of all American households are currently using the internet for real estate information
National Association of Realtors said that last year, 1 out of 2 buyers found the property first, then brought it to a real estate agent
Takeaway…Buyers want control of the home-buying process!
Why Home Scouting vs other real estate search engines?
There are two major problems with most online real estate search engines.
Most Home Search sites are missing at least 30% of the listings that are on the MLS (Multiple Listing Service).  This includes Zillow, Trulia, and Realtor.com
The information is frequently old.  Since these sites don't have direct access to the MLS, their information can be weeks or even months old.
How I use the Home Scouting Mobile App:
First, when I identify properties on my searches through my computer, I'll add them to my favorites.  Then when I'm driving around in my car, the location services on my smartphone will let me know where I am compared to the properties.  View details of every property right from the curb. If I'm driving by the outside of houses to preview them, I can sit outside and take a virtual tour by looking through all the pictures of the listed property.
The Second way I use location services on my smart phone, is to just pull up Properties Located near me.  This comes in very handy when you want to see what is listed close to your own home.
Can setup specific criteria based on exactly what you are looking for, without a sales person bothering you.
100% of the listings – Period
A Private, Secure and Ad-free experience
Automatic listing updates
Complete property details including large, vibrant pictures
Sold property data
Can search for all properties on the MLS or narrow down to Foreclosures or Short Sales
Even a tutorial on how to use the site
Demographic information

School systems
Average incomes
Amenities

Save properties to your favorites
If you want to see a property you can schedule a showing effortlessly with one click
You can even put in a request to get pre-qualified for a house, or to get payment information on a home that you like!
Social Media Use:
You can login using your Facebook User ID and Password.  This will allow you to share certain properties with friends and family on Facebook.  It's easy to share a property with only one or two people so you don't have to show everyone on your friends list.
Real Estate Investors:
As an investor myself, I think of all the times that I wanted MLS access and I would have to use a Realtor to search for properties for me. Many Real Estate Investors are not licensed Realtors, but they want control of the home search process. Home Scouting lets you be specific to target distressed sales, like foreclosures or short sales.
Alternate Uses:
One of my favorites, is for home sellers.
If your home is listed, search for homes near you that are listed.  Add them to your favorites.
Now you can not only watch their price, but you'll get an alert sent to your email every time they have a price change or a status change.
This is where it pays to know your competition.
You can stay one step ahead of your competition by lowering your price in conjunction with them lowering theirs.
Realtor Intro:
Since we interview the TOP Realtors in St. Louis, we know which ones are truly the best.  We match up many, many home buyers with the right Agent.  People often feel obligated to use an Agent that they know, even though the agent isn't full-time.  We recommend Agents that are pros, and specialize in your specific area.  It is really important to be well represented when you buy a home!
http://hbsr.homescouting.com/myapp/3195b448-5485-43cb-bc58-cf00ca7e0774
Podcast: Play in new window | Download