Having a System for Life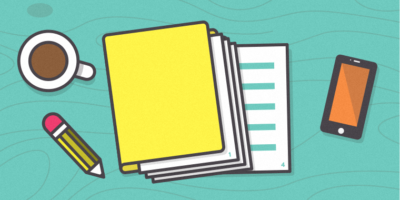 The reason for writing this is that I recently went to visit my mother. The visit really made me reflect on how important it is to have a system for life. What I mean by that is having a system for organization and productivity. My mother is so disorganized that clutter has began to fill her home. Bills weren't getting paid on time, she has numerous subscriptions that are completely unnecessary, and she has so much stuff that she feels overwhelmed. This disorganization has cost her so much money and time.
This waste could be completely solved if there was a system for life in place. Now, I was never as bad as she's gotten, but I had some issues of my own. Until I read the book "Getting Things Done" by David Allen I had some serious disorganization problems. Getting Things Done (GTD) is not only a book, but also a system for getting organized. I can honestly say it changed my life in a very positive way.
The great thing about GTD is it doesn't put rules around how you actually do your work. Instead, it focuses on how you capture the work you need to do, organize it, and choose what needs your attention. At its core, GTD stands on five "pillars," or steps to getting and staying organized:
Capture
 Capture everything. Your to-dos, your ideas, your recurring tasks, everything. Put it in a pen-and-paper notebook, a to-do app, a planner, whatever you prefer to use to get organized. GTD doesn't say to use a specific tool, but whatever you use has to fit into your normal flow. The barrier to using it should be so low that there's never a reason for you to say "I'll add it to my list later." You want to capture everything as soon as it happens so you don't have to think about it again until it's time to do it.
Clarify
Clarify
the things you have to do. Don't just write down "Plan vacation," break it down into actionable steps so there's no barrier to just doing the task. If there's anything you can do right away and have time to do, get it done. If there's anything you can delegate, delegate it.
Here's a helpful video where David Allen explains how to clarify your to-dos
so they don't require more time to figure out what you meant than it takes to actually do the thing you wanted to do.
Organize
Organize those actionable items by category and priority. Assign due dates where you can, and set reminders so you follow up on them. Pay special attention to each item's priority, as well. You're not actually doing any of the items on your list right now, you're just making sure they're in the right buckets for later, and your reminders are set. In short, this is quality time with your to-do list, inbox, and calendar.
Reflect
Reflect on your to-do list. First, look over your to-dos to see what your next action should be. This is where the clarifying step pays off, because you should be able to pick something you have the time and the energy to do right away. If you see something that's so vague that you know you won't be able to just pick up and run with it, break it down. Second, give your to-do list an in-depth review periodically to see where you're making progress, where you need to adjust your priorities, and determine how the system is working for you.
Engage
Engage and get to work. Choose your next action and get to it. Your system is, as this point, set up to make figuring that out easy. Your to-dos are organized by priority and placed in categories. You know what to work on, and when. They're broken into manageable, bite-sized chunks that are easy to start. It's time to get to work.
Those are the basic principles of GTD. At its core, GTD gives you a way to get everything you need to remember out of your head and into a system that can remember them for you, organize them, and break them down into pieces you can work with. That way the next time you look at your to-do list, there should be no confusion over what you have time to tackle, or what's most important. You can spend less time thinking about what to do and how to work and more time actually working.
Below is the graphic describing the process you should take for all information that comes to you.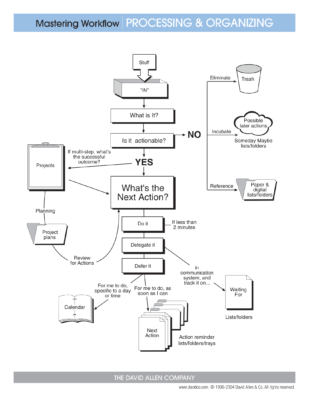 Listen to the Audio Below!