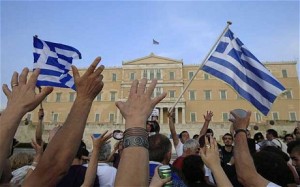 Greek MPs are to debate new proposals sent to the country's creditors with the aim of getting a third bailout and averting a possible exit from the euro. The plans contain controversial elements, including pension reforms and tax rises, that were rejected at a referendum called by PM Alexis Tsipras. The EU and other creditors are studying the plans before a summit on Sunday. France and Italy welcomed the proposals but Germany, Greece's biggest creditor, warned of little room for compromise.
Greece's debt mountain is 320 billion dollars, European bailout is 240 billion dollars, 177% country's debt-to-GDP ratio, 25% fall in GDP since 2010, 26% Greek unemployment rate. Mr Tsipras has asked eurozone and other creditors for 53.5 billion euros ($59.47 billion) to cover Greece's debts until 2018.
The measures submitted in the new Greek document include:
tax rise on shipping companies
unifying VAT rates at standard 23%, including restaurants and catering
phasing out solidarity grant for pensioners by 2019
€300m ($332m; £216m) defence spending cuts by 2016
privatisation of ports and sell-off of remaining shares in telecoms giant OTE
scrapping 30% tax break for wealthiest islands
Greece's creditors have already provided more than €200bn in two bailouts since a rescue plan began five years ago. The second bailout expired on 30 June.
Greece's banks are still closed and the €60 (£43; $66) daily limit on cash machine withdrawals for Greeks, imposed on 28 June, remains in force. With a shortage of €20 notes, for many the limit is in effect €50.
To read the rest of the article visit: Greece debt crisis: Greek MPs to debate controversial reforms plan
Podcast: Play in new window | Download