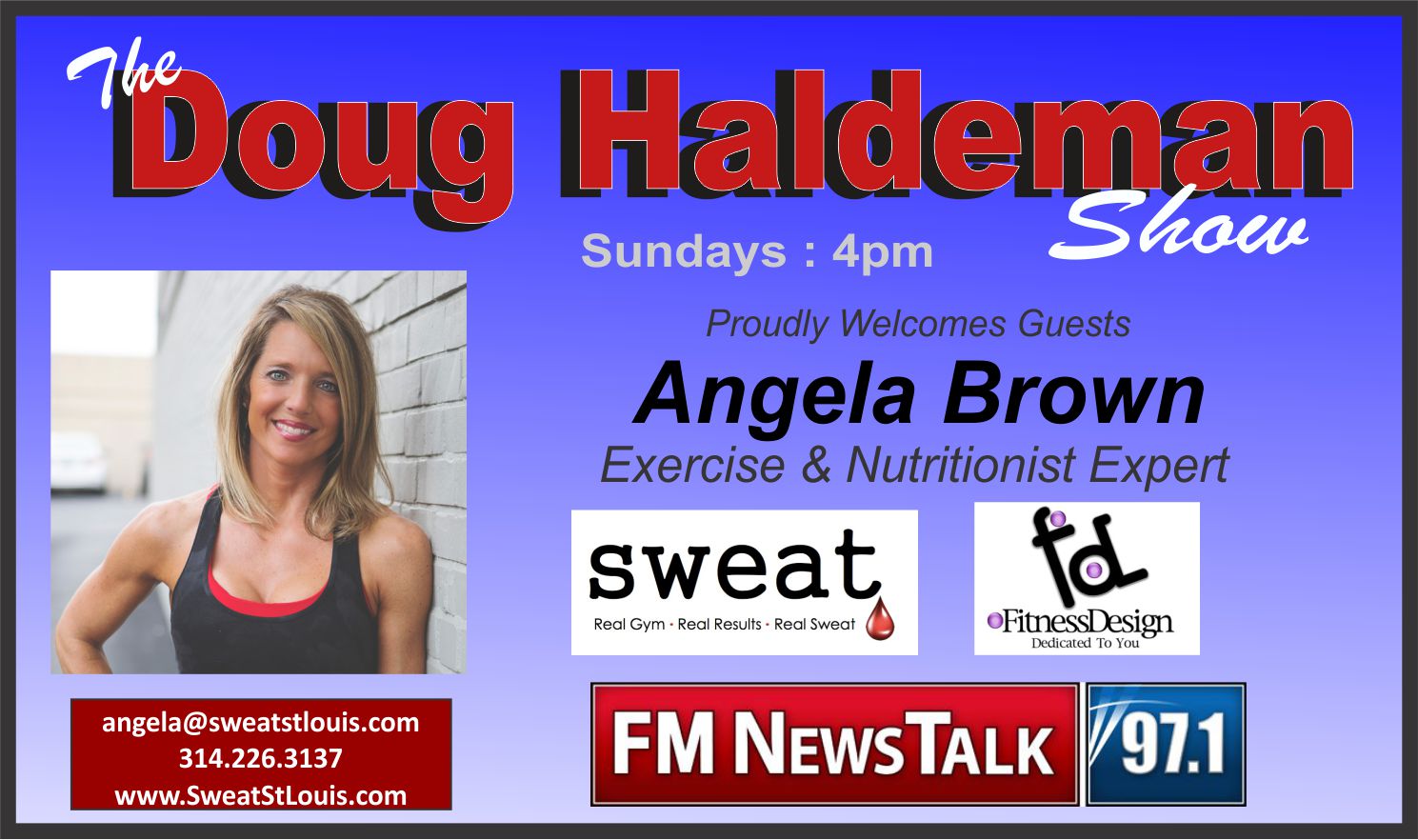 D.R.E.S.S for Health Success 
Most people think that they have tried every diet that claims to help cure their particular problem, and nothing works. The truth is, your "perfect" diet has not been designed. Through FDN®, I will show you how to create your perfect diet.  Angela Brown visits the Doug Haldeman Show to help us reveiw what dressing for health success can look like.
D= Diet
R= Rest
E= Exercise
S= Supplements
S= Stress
There are three main principles that are necessary in finding the right diet for you. The diet must:
consist of real, whole, nutrient dense food.
be comprised of the right macronutrients.
eliminate the foods that cause stress to your body.
Diet
Tips to help improve your diet:
Buy and consume whole foods.
This means avoiding food from bags, boxes and cans as much as possible. Try to steer clear of things that contain added sugar, high fructose corn syrup, preservatives, hydrogenated oils, trans-fats and artificial ingredients. Keep it simple by staying away from products that have a long list of ingredients.
Don't be lured in by diet trends.
Just because the latest celebrity is following a new, trendy diet doesn't mean it is healthy or right for you. Understanding this will give you some freedom to eat whatever your body and mind need without feeling guilty because something isn't "paleo," "raw" or "vegetarian."
Consider the source.
When purchasing produce, opt for locally grown or organic as much as possible. Produce can lose some precious nutrients during transit. The fresher, the better! Also, select organic, grass-fed meat, free-range podltry and wild-caught seafood as much as possible. Remember, "you are what you eat."
Cook your own food as much as possible.
Learn to prepare healthy and simple meals in your own kitchen. Cooking at home gives you control over what goes into your body, freedom to create your own combinations of food, and the ability to tweak recipes to follow your individual tastes, needs and food sensitivities.
Stay hydrated.
Drink plenty of fresh, clean water. Sometimes feelings of hunger, headaches, food cravings and constipation can be resolved by simply drinking water. Water also helps flush out toxins and prevent soft tissue strains and sprains. Aim for 8, 10 oz. glasses of water per day.
Rest
Brain function, body weight, digestive health, and muscle recovery are just a few areas that have been proven to be directly related to sleep quality. As easy as it sounds, getting 7-8 hours of good, uninterrupted sleep is rare in our fast paced world. We often find ourselves "burning the candle at both ends" in an effort to keep up with the stress of work, family and social commitments. When our sleep suffers, so do we. If you are getting less than 7 hours of sleep it could be having a dramatic effect on your health.
If you are having trouble going to sleep or staying asleep, there is a good chance that your adrenals are malfunctioning on some level. The adrenal glands serve as a hormone powerhouse and help keep many bodily functions in check, including the daily sleep-wake cycle.
Tips to improve your sleep:
Stick to a sleep schedule.
Go to bed and get up at the same time every day as often as possible, even on weekends and holidays. Consistency reinforces your body's sleep-wake cycle and helps promote better sleep throughout the night. The optimum sleep schedule will have you in bed by 10 pm and waking up around 6 am. Our systems, especially the adrenals, do a majority of their recharging and recovering between the hours of 10 pm and 2 am. Also, your liver, gall bladder and brain do some important detoxing while you are sleeping.
Pay attention to what you eat and drink.
Eat three big meals and snack as needed. Steer clear of grains and sugar in the evening as these will spike your blood sugar and inhibit sleep. Nicotine, caffeine and alcohol should be limited as well.
Create a bedtime ritual.
Doing the same thing each night tells your body it's time to wind down. This might include taking a warm bath or shower, reading a book, writing in a journal, or listening to soothing music. Relaxing activities can promote better sleep by easing the transition between wakefulness and drowsiness.
Limit screen time at night.
TV, computers, and the use of electronic devices can be far too stimulating for the brain. If you use these items before bed, it can take you a longer time to fall asleep.
Include physical activity in your daily routine.
Regular physical activity can promote better sleep, helping you fall asleep faster and enjoy a deeper sleep. Timing is important. Don't exercise close to bedtime as it may cause you to become too energized to fall asleep.
Exercise
The human body was designed to move. Running, jumping, twisting, bending, pulling and pushing are some of the ways that we can move our body. This causes blood to flow, bringing oxygen to our organs and allows us to build muscle and strengthen our lungs and hearts. Exercise also helps to carry toxins out of the body. With daily exercise, your body will become stronger, more limber and operate in a more efficient manner. However, more is not always better. Research now suggests that shorter, more intense exercise sessions can build fitness and burn calories just as effectively as a long, slow routine. Additionally, weight bearing exercises that recruit large muscles of the body can also help with hormone function.
Exercise Tip:
Don't sit too long at work. If you work an office job that requires you to sit for extended periods of time, make it a priority to get up and move 10 minutes each hour. Walk around the building, up and down the stairs, or simply get up and do some stretches at your desk.
Supplements
In today's world, it is nearly impossible to obtain all the necessary nutrients your body needs from food alone. Supplements provide the missing link between what is necessary for optimal health and what is missing from our food supply. Supplements are an important part of a healing protocol, but should never be the first step. Purchasing supplements can be a waste of money if you haven't taken the time and effort to identify which supplements your body truly needs. Knowing which supplements are necessary to improve your health is where the professional advice of a FDN® practitioner comes into play. I tailor supplementation to each individual in order to address specific healing opportunities.
3 basic functions of supplements:
Substitution:
These supplements replace something that is currently missing in the body or lacking in production. An example might include digestive enzymes.
Stimulation:
These supplements stimulate organs, glands and systems in the body to do their jobs. An example might include vitamins and minerals.
Support:
Support is an important function not to be overlooked. Supplements that provide support are short-term aids to the body while function is being restored. An example is adrenal glandular supplements which help the body respond to stress.
FDN's are not supplement salespeople! I never suggest anything that is not indicated in my individual assessments. I do utilize supplements to support the changes that need to happen. Once your health is restored, many supplements will no longer be needed and I will work closely with you to monitor your changing needs.
Stress Reduction
Today, stress is the most covered topic in the health and fitness category across the media. After reading all the information out there, you could easily conclude that stress is to blame for nearly every health problem.
But, not all stress is bad for you. Sometimes stress can make things happen, help you move forward, grow, and develop. This type of stress is called eustress. The adrenaline rush that an athlete gets before a sprint and the unexplainable strength that enables people to escape tragic circumstances are examples of eustress. Distress on the other hand, whether mental, physical, or chemical, can be extremely destructive. Distress is any influence that causes or leads to malfunction and therefore is involved in all disease. When not addressed properly, this type of stress can ruin your mental, emotional and physical health.
There are also internal and external stressors. When we think about stress, we usually think of external stressors such as traffic jams, physical injury, financial worries and arguments at home or work. But we also experience something called internal stress that FDN® refers to as the HIDDEN stressors. These include stress or dysfunction in relation to hormone, immune, digestion, detoxification, energy production and the nervous system.
Tips to reduce stress:
Live in the Present.
Take some time to just "be." Turn off the phone. Practicing yoga, tai chi, meditation, and walking or sitting in nature are just a few of the things you can do to help you become more grounded.
Pay attention to your body.
Listen to your body more. Show yourself respect and listen to the message that your body is sending.
Breathe.
Simply taking a few deep breaths engages the vagus nerve which triggers a signal within your nervous system to slow heart rate, lower blood pressure, and decrease cortisol.
From <http://www.sweatstlouis.com/FDN/DRESS-for-Health-Success-Stress-Reduction>