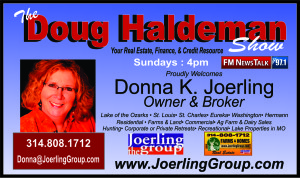 Donna Joerling with the Joerling Group Real Estate Company joins Doug and Tammie in studios to discuss what rural property and second homes have to offer to buyers and sellers.
Tammie says, "Donna  is 'The Property Whisperer', She just has this magnetic energy about her that inspires you to enjoy life and see the potential in everything."
Donna was born and raised in the rural community of Hermann, MO.  She has learned her work ethics by working with her family on their farm and has this ability to find the diamond in the rough.  With her multiple skill sets and background experiences Donna makes the home buying and selling process a piece of cake!
Call Donna today! Interview her, meet her and then decide if you believe in your heart that she is someone that you can entrust your real estate journey with!
Donna Joerling
Owner & Broker
314.808.1712
Segment 1 with Donna Joerling Part 1
Segment 1 with Donna Joerling Part 2
Segment 2 with Donna Joerling
Podcast: Play in new window | Download