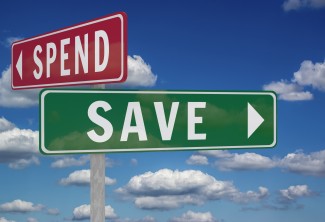 Summer spending is one of the highest moments of our financial yearly budget.  It is filled with vacations, extra food because the kids are home, daycare expense increases, parties, events and more.
What is a financial cleanse?
A financial cleanse is similar to a diet. After overindulging in too many sweet treats or fast food meals, you might reset your habits by eating healthy and working out. Under a financial cleanse, you work toward replacing some of the spending habits that may have gotten out of hand in the summer with mindful spending and saving. Here are some tips to get started.
Look At Your Spending
To do this, scroll through your bank account or credit card statements, and write down every purchase that may have caused you to go overboard.You may start to see some interesting patterns. Maybe you went out to eat more than you thought, or all of those gas station purchases and $5 coffees added up. This exercise can show you where your money actually went and where to cut back. 
Go On A Fiscal Fast
After getting into the habit of spending money, it can be much easier to keep opening your wallet as it's your new norm.  The definition of a fiscal fast is when you stop spending money for a set period of time, such as a week.  This forces you to make do with items you already have in your home. You can turn it into a group event, where you do it with your family, friends or co-workers.
To ensure success, prepare by getting enough groceries and toiletries to tide you over, and find ways to frugally replace the things you were spending money on.
For example, if frequent happy hours were a budget-buster for you, get some affordable wine to tide you over until your no-spending fiscal fast ends. If restaurants were the culprit, look up new recipes to try at home.
Change Your Budet
One of the ways we can overspend during the summer is by not budgeting for all the outings, vacations and activities we have on our plate ahead of time.  To fix this, consider shifting your budget now to prepare for next year's summer fun. This can help limit your chances of having to go into debt or tap into your savings.
Review your summer spending in detail and use the information to establish an annual travel budget or summer fun budget.
Example:  If you see that you've spent an average of $4,000 to $5,000 on summer fun for the past few years, set up a savings account specifically for that purpose. Begin to contribute to it with the goal of having enough set aside by next summer.
Find The Urge to Purge
During a financial cleanse, it's time to go through your stuff and purge.  Maybe you bought too many clothes over the summer or electronic gadgets that you barely use. Create two piles — a "keep" pile and a "sell/donate" pile.
Some items you may just want to donate to Goodwill depending on the quality, whereas others you can resell on websites such as Craigslist, OfferUp or Buy Sell Trade sites. If it was a purchase within the last few weeks that you haven't used, you may still be able to return the item to the store.  Check your credit card benefits, as some cards offer an extended return program for up to 90 days after a purchase.
By purging, you can not only declutter your physical space but also potentially make some extra cash to boost your savings, pay down debt or start saving for next summer's adventures.
Get A Side Hustle
During your financial cleanse, focus on how to earn — instead of spend — more money.  Through a side hustle, you can earn extra cash doing various tasks. For example, you can become an Uber or Lyft driver, deliver groceries via Instacart, or become a tutor or pet sitter or sell your artwork on Etsy.
By doing this, you can monetize your skills and help recoup some of the money you spent over summer. Just be sure to decide what you'll do with the extra funds ahead of time — if you don't have a plan in place, earning more could lead to lifestyle inflation, where you spend more because you have a higher income.
When done wisely, a side hustle can leverage your skills into money-making opportunities and help you earn more to flex and strengthen your financial muscles.
Ending Thoughts
As the holidays quickly approach, it's a great time to get your money in order. By going on a financial cleanse can help you develop a better relationship with your money and foster saving habits. It is not to late to get back in the driver's seat of your finances.
Podcast: Play in new window | Download