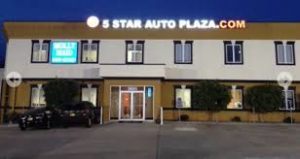 Dan Grosvenor with 5 Star Auto Plaza formally 5 Star Auto Sales joins us in the studio to share with us about his new loction and how excited they are to be able to offer such a great facility to their customers.
He has several specials going on for a limited time for even just stopping in to take a tour of the new location you will be entered into a drawing for a chance to win an I-Pad, a cruise or a trip to Vegas.
They also have a special for those who buy a car they will receive a $300 gas car and the first year of maintenance on that vehicle for free!
This could be your lucky day so stop in and check out the inventory Dan has on his lot, take the grand tour of the building and meet some of the people that make 5 Star Auto Plaza a place you can trust.
[divider]
Contact Information: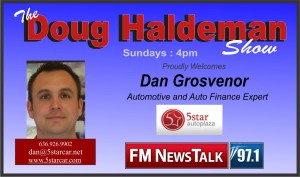 Dan Grosvenor
Car Financing Expert
5 Star Auto Sales
636.926.9902
5starcar.com
Audio 1: Dan Grosvenor
Podcast: Play in new window | Download