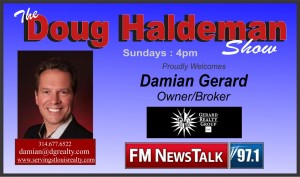 Damian Gerard with Gerard Realty Group joins us in the studio to go over how sellers and buyers can succeed in today's market.
SELLERS, can choose from various programs to get the right mix of services. We offer:
Private Listing Program
Guaranteed Sale Program
Basic Listing Services
Full Service Listing
To sell your house in this current environment realtors must be full time, actively engaged, well trained in real estate and technology, and dedicated to the putting your needs in front of their own. Most important your realtor must get your house exposed to buyers. No other realtor, Group, or team in St Louis can deliver tens of thousands of views to your door step.
[divider]
Contact Information:
Damian Gerard
GERARD REALTY GROUP at Keller Williams
10936 Manchester Road
St. Louis, MO 63122
Phone: (314) 614-4377
Audio: Damian Gerard
Podcast: Play in new window | Download