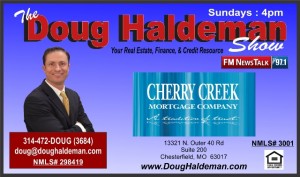 And you thought buying or selling a home was scary. Either one can be, of course, but there's nothing like doing both at once to foster a flurry of "what ifs."
What if I buy a new house, but my old one doesn't sell?
What if I sell my old house, but can't find a new one?
And what if I try to do both at once and end up going completely crazy in the process?
Don't worry, you won't, as long as you take the time to think things through. Depending on your particular situation, it may make more sense to buy first, then sell — or just the opposite. Below are some factors to consider.  To learn more be sure to tune in this Sunday at 4 pm on FM NewsTalk 97.1 The Doug Haldeman Show.
Buy First, Then Sell
Can search for new home without pressure
No need to find interim housing
Risk of double mortgage payments
Equity from current home unknown
Sell First, Then Buy
Equity is immediately available
No double mortgage payments
Risk of having to find interim housing
Pressure to buy can lead to rash decisions
Audio 1: Buying & Selling At The Same Time
Audio 2: Buying & Selling At The Same Time
Podcast: Play in new window | Download