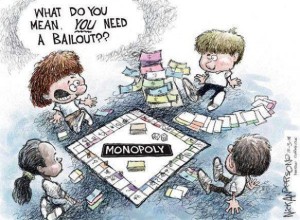 The Bailout Scorecard
Last update: Mar. 31, 2016
Altogether, accounting for both the TARP and the Fannie and Freddie bailout, $619B has gone out the door—invested, loaned, or paid out—while $390B has been returned.
The Treasury has been earning a return on most of the money invested or loaned. So far, it has earned $298B. When those revenues are taken into account, the government has realized a $69B profit as of Mar. 31, 2016.
Where do these numbers come from?
Most of the data shown comes from the Treasury Department. But in a few cases, we've gathered information from other government agencies or press releases and regulatory filings from bailout recipients.
If you've got more questions about how we do this, please drop us a line.
What you can find here:
To find out the full report go to:
http://projects.propublica.org/bailout/main/summary
Podcast: Play in new window | Download