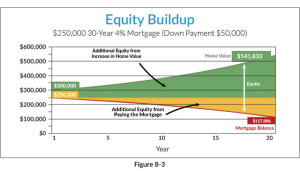 Doug explains what a big, long mortgage is and what the advantages of having one are on today's show.
1. Your mortgage doesn't affect your home's value.
2. A mortgage won't stop you from building equity in the house.
3. A mortgage is cheap money.
4. Your mortgage interest is tax-deductible.
5. Mortgage interest is tax-favorable.
6. Mortgage payments get easier over time.
7. Mortgages allow you to sell without selling.
8. Mortgages allow you to invest more money and to invest it more quickly.
9. Mortgages allow you to create more wealth than you otherwise would.
10. Mortgages give you greater liquidity and flexibility.
11. You'll never get rid of your monthly payment, no matter how hard you try.
11 Great Reasons to Carry a Big, Long Mortgage was posted by: Ric Edelman on EdelmanFinancial.com
Part one:
Part two:
Podcast: Play in new window | Download